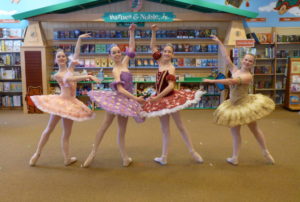 What: Barnes and Noble Nationwide Fundraiser
Where: 92nd Street and Shea Blvd
When: Sunday November 18th 2018 11:00 a.m. 12:00 p.m.
Stop by the Barnes & Noble at 92nd Street and Shea Blvd to see the dancers from Scottsdale School of Ballet on November 12th at 11:00 a.m. and 12:00 noon  perform excerpts from the upcoming 2018 Winter Festival!
This is a nationwide event so please pass the flyer on to everyone you know. They can make purchases at any Barnes and Noble in stores on November 17th and 18th.
Can't attend the bookfair at Barnes & Noble?
Visit BN.COM/bookfairs to support us online from 11/18/18 to 11/18/18 by entering Bookfair ID #12455630 at checkout. Please feel free to email the flyer to all friends and family across the USA.  CLICK HERE FOR A COPY OF THE FLYER
A percentage of all your Barnes & Noble purchases will benefit our organization.